Hey guys!
Quick style post today. Anybody who really knows me, knows I am not a fan of the colour pink at all. However, recently I have been intrigued by pink in various items like lipsticks and blush and nail polish and phone cases and clothing…. HELP! I think I may actually the colour pink ( the horror! lol 😛 )
So while perusing the racks at Forever 21 ( I swear I should own stock in this store) I saw a lovely dusty pink T-shirt Dress. My mind instantly began racing with ideas of how I could style it. Unfortunately, this particular location didn't have my size. A few days later, I tried another location and luckily they had it in stock!
So let me show how I styled it today!
Dusty Pink Dress from Forever 21:  This dress is plain and simple. A stretch knit dress made of a blend of rayon and spandex, this dress fits like a glove! With a straight hem line and three-quarter length sleeves, this dress is easy to dress up or dress down. You can purchase this item here.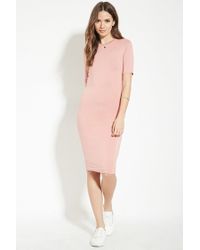 Nude Heels: I chose a nude pair of heels for this outfit today . On another day, I could see myself pairing this with a deep plum pair of heels. I'll post a pic of shoes similar to the ones I have down below.
Jewelry: The dress was extremely simple so I felt it was okay to go a little glam with the jewels. My friend gifted me with a beautiful six strand set of  pearls with the bracelets and pearl stud earrings to match. This added the right amount of glam to the outfit! Extreme, yet not overbearing.
For my makeup I kept it pretty simple. I used my Naked 3 Pallette shades "Mugshot" and "Liar" for my lid shadow along with some black eyeliner and mascara.  On my lips I wore MAC "Nightmoth"  lip liner with Kat Von D "Bauhau5" liquid lipstick!  My foundation was the "NARS All Day Luminous Weightless Foundation in the colour "Benares"
Dress:  $29.90
Heels: $ 20.00 ( i think)
Jewelry:  Gift price unknown 🙂  similar items retail for upwards of $150
Have an amazingly stylish Sunday!!!
xoxo