Hi guys!
I took a much needed hiatus from the blog world.l I just wanted to enjoy my extremely busy summer without the constraints of deadlines and computer screens! I had the opportunity to attend quite a few weddings this summer season. I'd like to share with you what I wore to these events with outfits I found on the popular retail site Boohoo!
Boohoo is an affordable fashion site that caters to needs of men and women of all sizes. It offers a variety of style options ranging from extremely casual to fancy attire.
Today I'm going to showcase two dresses I purchased. At first glance, the dresses seemed very casual ( based on the material).  But once they were accessorized and I dolled myself up they became real showstoppers!
Look One: The Red Dress…
I purchased the dress actually way back in March to wear to another event but I went another direction. I was able to pull it out for a beautiful wedding in July.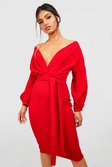 This dress is a polyester blend dress. It is an off the shoulder piece that has a front tie, balloon sleeves and is midi length. This dress was the perfect, lightweight material and length for quite a warm summer day.
I pair this dress with silver jewelry. Teardrop bling earrings ( that were gifted to me by a friend) a silver pandora charm bracelet and a jewel and crystal statement necklace from Aldo Accessories. I added silver peep-toe heels from Call it Spring.
I kept my makeup very neutral as the dress was such a bold colour.
I purchased this dress for the amazingly low price of $33.00! ( Canadian currency) I loved this outfit and I hope the opportunity presents itself where I can wear this dress again!
https://ca.boohoo.com/off-the-shoulder-wrap-midi-bodycon-dress/DZZ56895.html?color=157
( PS: All of us ladies wearing red  WAS NOT PLANNED! LOL. Great minds think alike I guess! 🙂
Look 2: The Yellow Dress
Anyone who knows me, knows my favourite colour is purple. However, my favourite colour to wear is…. you guessed it… yellow !
I had another wedding to attend this summer. This time it was in Montreal , Quebec which is about a 6-7 hour drive from where I live. The vision that I had in my head was that I wanted to look like sunshine. This was the wedding of my very good friend aka my "nephew" and his beautiful bride. I wanted a dress to really support the joy I was anticipating to feel on their special day! I smile every single time I see yellow , so yellow was the only option for me 😉
Once again I went to Boohoo to try and make my vision a reality.  I found exactly what I was looking for!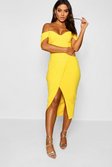 This dress is the same type of material as the first dress; a polyester blend. This dress is also an off the shoulder piece.  It is a wrap style dress, which I loved because it was very  forgiving in the mid-section area. What also drew me to this piece was the front split. It just added a nice flair to the otherwise very simple piece.
To to take this dress to the next level, I paired it with some yellow statement earrings from Forever 21. I added some gold bangles and kept my gold nameplate necklace on. The earrings were already so bold that I didn't want to make myself look too busy.
I added some lucite cinderella slipper heels  from Fashion Nova. ( I don't know If I can ever wear these again! They were so painful!) I also added a piece of kente cloth material that I used as a shawl in the day and a headwrap at the after party! 🙂   I also addded a clear purse with a pink insert from Forever 21 to complete the look.
This dress also retailed for only $33.00!
https://ca.boohoo.com/off-the-shoulder-wrap-skirt-midi-dress/DZZ21500.html?color=174
Would I reccomend Boohoo? Absolutely! I would defintely suggest you check it out if you are looking for a beautiful  budget friendly piece!
That's it for summer wedding looks!   Come back next week and see my summer bridesmaid look !
Til next time….