Hey guys!
In the spirit of trying new things, and really branching out and stepping out of my comfort zone, I decided to start a series here on this site dedicated entirely to style. So here I am mindlessly watching the superbowl ( I don't care who wins because none of the teams I like are playing) and decided today is the day! Plus, I really like my outfit today 😛
So, I did something a little crazy today….. I wore pants to church. I know, I know…You are probably over there in cyber world scratching your head saying, "So what? What's the big deal?. Well coming from a predominantly West Indian Pentecostal church ( Hey fellow COGOP peeps!) it's just something that is ingrained in me to do. When you are going to church, you dress up in what were deemed, "church clothes". ( See pics below 🙂  )
But recently while in conversation with a friend, we began to discuss the verse in the bible Joel 2: 12-13 which in brief states to "rend your hearts and not your garments". To make a long story short we came the conclusion, you could wear the most beautiful skirt and blouse to service, but if your actions aren't matching your outward appearance then who really cares? God desires your worship not your clothes! Don't get me wrong, I'm huge on modesty and love to dress up to go to the house of the Lord or anywhere, but this year I have decided to put less stock in what people might say, and do what works for me! Will God still accept my worship in jeans and a blazer on a non designated "dress down" Sunday? He sure will!  Also, I work in children's ministry where I am super active! Sometimes a skirt just doesn't work for the running around I have to do 😛
Whew! Now that that is out of the way, let me share with you what I wore to church this Sunday.
I wanted and extremely casual look today. My entire outfit consisted of five basic pieces:
A pant: I chose a mustard yellow, three quarter length cropped trouser. I purchased these from Forever 21 about 3 years ago. Down below I will have link to a similar pant I found on the Asos website.  I believe I purchased these pants for approximately $26.00 Canadian.
( Find similar pants here:)
Next, a basic tee: Also purchased from Forever 21. Simple plain white tee, that you can dress up or dress down. Here is the link to the one I purchased. This piece retails for $6.90 ( Canadian Dollars)
Next, a cardigan: Also purchased from Forever 21 ( I sense a theme here lol) . I chose it in the colour olive green because I thought it would be a complimentary colour concept with my mustard yellow pants. It is described on the website as a " longline open-front cardigan." It has 3 quarter length sleeves and is made of the material rayon. So it is quite loose and comfortable which is  what I was going for today! This piece retails for $ 21.90 ( Canadian Dollars)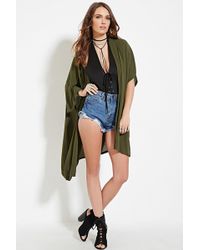 Shoes: I couldn't go completely casual. I had to glam it up a little. 😛   I went with a 5 inch platform stiletto that I purchased years ago at Spring. The colour, cognac ( im a little obsessed with cognac)  with gold detailing on the ankle strap. I believe these shoes were in the $35.00 dollar price range. I couldnt find this exact pair, but I was able to find a pair extremely similar here.
Lastly, I finished the outfit off with a simple statement necklace that I purchased from Aldo. A simple solid gold circular choker style neckalce with gold chain link detailing. It's called the PAULDON.  I purchased this for a mere $12.00!
So lets tally this up:
Pants: $26.00
Tee: $6.90
Cardigan: $21.90
Shoes: $35.00
Necklace: $ 12.00
Total Price for Todays Outfit:  $101.80, and included in this outfit are 3 pieces that you can mix and match with a variety of different outfits easily ( tee, cardigan, necklace) thus saving you money in the long run : )
I hope you you enjoyed this post!  Look out for more Style Sundays! Have a wonderful day!!!
xoxo