Hey y' all
I'm not going to lie to you… March and April were not the best months of reading for me. I was in kind of a slump and was not motivated by anything I had prepared to read. Thus, you will see some repeats on here for the month of May ( lol)
What I actually  did end up reading the last two months:
Colliding with Destiny: Sarah Jakes ( now Sarah Jakes Roberts )
The Replacement Wife: Tiffany L  Warren
On The Come Up: Angie Thomas
Brutally Honest: By Melanie Brown ( From the Spice Girls)
Take the lid off- A  7-day reading plan and also the  Ready or Knot reading plan on the Bible App.
Here's what I'm reading this month:
Where The Crawdads Sing: Delia Owens 
For years, rumors of the "Marsh Girl" have haunted Barkley Cove, a quiet town on the North Carolina coast. So in late 1969, when handsome Chase Andrews is found dead, the locals immediately suspect Kya Clark, the so-called Marsh Girl. But Kya is not what they say. Sensitive and intelligent, she has survived for years alone in the marsh that she calls home, finding friends in the gulls and lessons in the sand. Then the time comes when she yearns to be touched and loved. When two young men from town become intrigued by her wild beauty, Kya opens herself to a new life–until the unthinkable happens.
Perfect for fans of Barbara Kingsolver and Karen Russell, Where the Crawdads Sing is at once an exquisite ode to the natural world, a heartbreaking coming-of-age story, and a surprising tale of possible murder. Owens reminds us that we are forever shaped by the children we once were and that we are all subject to the beautiful and violent secrets that nature keeps (Goodreads.com)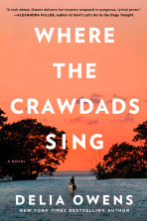 I just couldn't get motivated to actually pick this one up last month! It's next in line so fingers crossed I get to it this month!
Housegirl: Michael Donkor 
Moving between Ghana and London, Hold is an intimate, moving, powerful coming-of-age novel. It's a story of friendship and family, shame and forgiveness; of learning what we should cling to, and when we need to let go.
Belinda knows how to follow the rules. As a housegirl, she has learnt the right way to polish water glasses, to wash and fold a hundred handkerchiefs, and to keep a tight lid on memories of the village she left behind when she came to Kumasi.
Mary is still learning the rules. Eleven-years-old and irrepressible, the young housegirl-in-training is the little sister Belinda never had.
Amma has had enough of the rules. A straight-A pupil at her exclusive South-London school, she has always been the pride of her Ghanaian parents. Until now. Watching their once-confident teenager grow sullen and wayward, they decide that sensible Belinda might be just the shining example Amma needs.
So Belinda is summoned from Ghana to London and must leave Mary to befriend a troubled girl who shows no desire for her friendship. She encounters a city as bewildering as it is thrilling, and tries to impose order on her unsettling new world.
As the Brixton summer turns to Autumn, Belinda and Amma are surprised to discover the beginnings of an unexpected kinship. But when the cracks in their defences open up, the secrets they have both been holding tightly threaten to seep out. (Goodreads.com)
I started this one back in March. I put it down for a while as I just couldn't get into it. I really want to give this one another go.
 The Proposal: Jasmine Guillory
When someone asks you to spend your life with him, it shouldn't come as a surprise–or happen in front of 45,000 people.
When freelance writer Nikole Paterson goes to a Dodgers game with her actor boyfriend, his man bun, and his bros, the last thing she expects is a scoreboard proposal. Saying no isn't the hard part–they've only been dating for five months, and he can't even spell her name correctly. The hard part is having to face a stadium full of disappointed fans…
At the game with his sister, Carlos Ibarra comes to Nik's rescue and rushes her away from a camera crew. He's even there for her when the video goes viral and Nik's social media blows up–in a bad way. Nik knows that in the wilds of LA, a handsome doctor like Carlos can't be looking for anything serious, so she embarks on an epic rebound with him, filled with food, fun, and fantastic sex. But when their glorified hookups start breaking the rules, one of them has to be smart enough to put on the brakes… (goodreads.com)
Okay, guys… I breezed through this one! I absolutely loved it! I purchased it on a whim and was pleasantly surprised. I wasn't aware that it was part of a series, so I am going to go back and read the first one and am eagerly anticipating the next book in the series due out summer 2019
In The Midst Of It All: Tiffany L. Warren 
For feisty seventeen-year-old Zenovia, keeping strong in her faith is an uphill battle. Between her schizophrenic mother and their tough neighbourhood, her life has never been even remotely near normal. When the Brethren of the Sacrifice Church offers them acceptance and a chance at stability, even skeptical Zee can't resist. Especially when Tristan, a handsome, fervent young member, acts like he wants her to be his one-and-only…and his wry older brother Justin reveals he's more interested in Zee than he pretends. But when she falls hard for Emil, the Brethren's outspoken rebel, her belief in mercy and tolerance puts her at odds with the Brethren, her new life—and her mother. Now Zee must come to terms with betrayal, deceit, and false faith. As she fights to grow spiritually and live on her own terms, she will discover how love, forgiveness, and God's guidance can bring the most unexpected blessings. (goodreads.com)
Queenie: Candice Carty-Williams
Bridget Jones's Diary meets Americanah in this disarmingly honest, boldly political, and truly inclusive novel that will speak to anyone who has gone looking for love and found something very different in its place.
Queenie Jenkins is a 25-year-old Jamaican British woman living in London, straddling two cultures and slotting neatly into neither. She works at a national newspaper, where she's constantly forced to compare herself to her white middle-class peers. After a messy break up from her long-term white boyfriend, Queenie seeks comfort in all the wrong places…including several hazardous men who do a good job of occupying brain space and a bad job of affirming self-worth.
As Queenie careens from one questionable decision to another, she finds herself wondering, "What are you doing? Why are you doing it? Who do you want to be?"—all of the questions today's woman must face in a world trying to answer them for her.
With "fresh and honest" (Jojo Moyes) prose, Queenie is a remarkably relatable exploration of what it means to be a modern woman searching for meaning in today's world. (goodreads.com)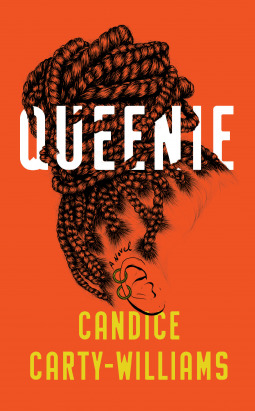 I don't generally pick a book at random, but I picked this book up solely because of its boldly hued cover and artwork depiction of a girl of colour with box braids.
I am currently 85% finished this novel already, and I literally started it 2 days ago! While it has some colourful language and some graphic adult content, I am thoroughly enjoying this author's candid and relatable way of telling a story that touches on so many issues many people face today.  For a debut novel, I am highly anticipating her future works!
Lastly, currently I am focusing on this devotional from the Bible app:
I think I am already off to a good start this month! What are you reading?
xoxo

©justlovethemanyway