Hey y'all!
Quick post today! I meant to post this outfit last week, but the Steelers were playing the Jaguars and after a very intense game, I was just pooped! ( LOL shout out to my amazing server at Shoeless Joes who caught the brunt of my animated football watching and got a tray full of drinks spilled on her… hangs head in shame LOL)
Anyway, the women's  ministry at my church had requested that we all wear white. Now, I work in children's ministry, so all white is typically not an option and in general white is not a colour I gravitate to. So on the hunt I went. One piece I found in my closet and one I had to purchase.
First, let me confess… I wore off white, closer to champagne because stark white is not really my thing!
So earlier in the summer, I had a few "All white attire " events to attend , I went on boohoo.com to search for a dress or skirt to wear and I found one but it was too dressy. Luckily it came in handy for this outfit.
The skirt is a white tulle, mid length skirt. It has an elastic waist that allows for ultimate comfort. This skirt is so comfortable. It was constructed for a taller person (5'7 and taller) which I am not  but it still worked for me. I just wore it high waisted 🙂  This skirt currently retails for $34.00 Canadian.
Find it here: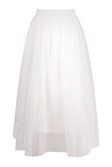 I found a bodysuit at Forever 21 that matched almost perfectly! Pretty basic long sleeve off white bodysuit with some minor gold details through it! find it here
I paired this outfit with beige lace up mules, and a silver and crystal statement necklace.  My makeup with simple with a nude lip ( Sanctuary by Kat Von D) and black eyeliner ( I know super basic, but hey it worked)
Thats it guys! Have an awesome week and remember ,
xoxo
©justlovethemanyway