**Disclaimer: All products reviewed in this blog were purchased by me. I am not sponsored by any of these companies. The opinions stated in this blog are solely my own.**
Hey y'all!
Back again with another with another beauty blog! Today I am going to talk about drugstore mascaras. Almost as much as I love lipstick, I love to try different mascaras from all different brands and price points. If I see a commercial advertising a new mascara, more than likely at some point I will purchase it  and try it! (lol) So I'm going to talk about  a  few of my favorite drugstore items.
These mascaras are in no particular order,but I will tell you which one(s) are my favorites at the end of this blog!
First up: Maybelline Great Lash Mascara in the shade Very Black. This mascara is one of Maybelline's original mascaras. If im not mistaken, It was probably the first mascara product I ever used way back in the eighth grade ( yes I had to hide and do it because my Jamaican old school mama wasn't having her 13-year-old wear makeup!! ) I guess that's why I have such an affinity for it. Let's discuss the pros and cons:
Pros:

Affordable ( 5-6 dollars Canadian)
Very dark formula. Great to finish off a smoky eye look
Defines your lashes by lifting and separating
Easily removed
Great for bottom lashes as the wand is very small

Cons:

Formula is extremely wet
Can become runny over a short period of time
messy
It is definitely not a mascara that you would reach for if you are looking for extreme length or fullness

Overall I would give this mascara a 3 out of 5 stars. It's not one I'd reach for first,but If I'm in a rush and I'm doing a simple makeup look, I'd throw this on. 🙂
Next up is a mascara by the same brand and line but in the clear formula. Maybelline Great Lash Clear. The pros and cons for this item are pretty much the same. What I love about this product is that it doubles as an eyebrow gel. I also love to use this product as an eyelash primer. I like to use this mascara with another mascara on top. On days that I don't want to wear any makeup ( or very minimal) I will just throw this on to give my lashes some definition. I give this formula a 4 out of 5 stars. 
Next up is a mascara from Covergirl;. The Covergirl Super Sizer by Lashblast. I'm not the biggest fan of this one. Here are the pros and cons for this product.
Pros:

Affordable ( 6-7 dollars Canadian)
Very dark formula
Long lasting

Cons:

Gives the lashes a "crunchy" feeling
Really have to play around with it to get a clean look
I found it clumped my lashes together
Packaging is awkward and not appealing to me
Doesn't lengthen lashes like it claims.

I definitely would not repurchase this mascara. I give it 1.5 out of 5 stars.
The next mascara I want to talk about is from the Rimmel line. It is the Lash Accelerator Endless in the shade 003 Extreme Black.  I have been a long time user of the original Lash Accelerator formula which I love. So when I saw this new formula, you know I had to try it! Here are my pros and cons for this product.
Pros:

Affordable ( 7-10 dollars Canadian)
Awesome brush ( plastic applicator, good size
Lives up to the name "accelerator"  by really lengthening your lashes
Allows for a very clean application
Long lasting
Eye catching packaging
Good curling mascara

Cons:

I honestly don't have any cons!

I give this product 5 out of 5 stars! 🙂
Next up,the Miss Manga Mascara by L'oreal Paris. Love this mascara too! It's probably one of my favorite drug store mascaras. Here are my pros and cons.
Pros:

Affordable ( 6-8 Canadian dollars)
Lifts and separates lashes
Holds a curl well
Very black
Smooth formula that is not too wet
Good for sensitive eyes ( like my own)
Neat packaging

Cons: 

Not a huge fan of the 360 flexor wand. To me it's too flimsy and can be messy.
Product tends to dry out after a few uses
I give this product a 4.5 out of 5 stars. I would definitely repurchase this product.I even purchased one for my best friend and forced her to try it too. I need to ask her what she thought…..:P
Lastly, I have the Maybelline Lash Sensational mascara. I absolutely LOVE this mascara. I only have one con with this product. It is a very wet formula so you need a really steady hand to apply and I find it's not the greatest for lower lashes. But putting all of that aside, I really enjoy this mascara. I find it's the one I reach for most consistently. I enjoy that the wand is curved as it makes it so easy to apply. ( for  me anyway) The formula is very darkly pigmented. I find that it also thickens your lashes, lengthens them and holds a curl well.  I give this product a 5 out of 5 stars!!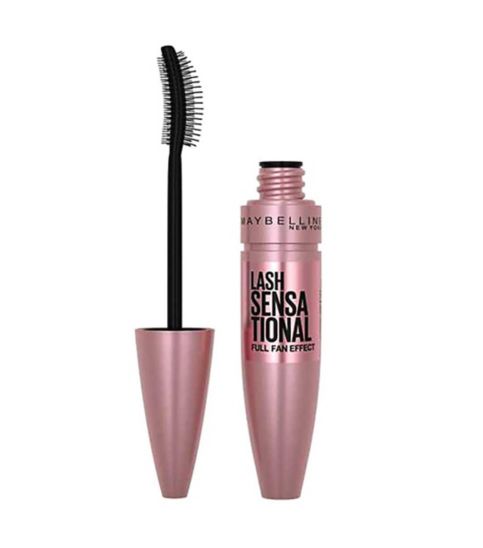 In conclusion, I guess Id have to say my two favorite drugstore mascaras are the Maybelline Lash Sensational and the Rimmel Lash Accelerator Endless.
Some tips I find to make applying mascara easier are to look down when applying mascara to your upper lashes and to look up when applying mascara to your bottom lashes.  Wipe off excess product on a tissue to prevent clumping. Coat both sides of your lashes for an even thicker appearance. Allow first coat of mascara to dry before applying another coat.
I'm by no means a beauty guru but I hope my tips and opinions will help you find the perfect drugstore brand mascara for you!
xoxo