Hey loves!
Here's a peek into what I'll be reading for the month of March!
1.  Housegirl: Michael Donkor 
Moving between Ghana and London, Hold is an intimate, moving, powerful coming-of-age novel. It's a story of friendship and family, shame and forgiveness; of learning what we should cling to, and when we need to let go.
Belinda knows how to follow the rules. As a housegirl, she has learnt the right way to polish water glasses, to wash and fold a hundred handkerchiefs, and to keep a tight lid on memories of the village she left behind when she came to Kumasi.
Mary is still learning the rules. Eleven-years-old and irrepressible, the young housegirl-in-training is the little sister Belinda never had.
Amma has had enough of the rules. A straight-A pupil at her exclusive South-London school, she has always been the pride of her Ghanaian parents. Until now. Watching their once-confident teenager grow sullen and wayward, they decide that sensible Belinda might be just the shining example Amma needs.
So Belinda is summoned from Ghana to London and must leave Mary to befriend a troubled girl who shows no desire for her friendship. She encounters a city as bewildering as it is thrilling, and tries to impose order on her unsettling new world.
As the Brixton summer turns to Autumn, Belinda and Amma are surprised to discover the beginnings of an unexpected kinship. But when the cracks in their defences open up, the secrets they have both been holding tightly threaten to seep out. (Goodreads.com)
I'm already quite a bit through this one and frankly, I'm regretting spending time reading this. I hope it gets better but so far… I'm not impressed.
2. On The Come Up: Angie Thomas 
Sixteen-year-old Bri wants to be one of the greatest rappers of all time. Or at least make it out of her neighbourhood one day. As the daughter of an underground rap legend who died before he hit big, Bri's got big shoes to fill. But now that her mom has unexpectedly lost her job, food banks and shutoff notices are as much a part of Bri's life as beats and rhymes. With bills piling up and homelessness staring her family down, Bri no longer just wants to make it—she has to make it.
On the Come Up is Angie Thomas's homage to hip-hop, the art that sparked her passion for storytelling and continues to inspire her to this day. It is the story of fighting for your dreams, even as the odds are stacked against you; of the struggle to become who you are and not who everyone expects you to be; and of the desperate realities of poor and working-class black families (Goodreads.com) 
I actually read this book as soon as I got my hands on it in mid-February, but it was originally on my March TBR. I just couldn't wait and I was not disappointed, While this book has mixed reviews ( no less coming on the heels of the widely acclaimed "The Hate U Give" ) I absolutely loved it and I am anxiously awaiting whatever Angie Thomas has coming next!
3, Where The Crawdads Sing: Delia Owens 
For years, rumors of the "Marsh Girl" have haunted Barkley Cove, a quiet town on the North Carolina coast. So in late 1969, when handsome Chase Andrews is found dead, the locals immediately suspect Kya Clark, the so-called Marsh Girl. But Kya is not what they say. Sensitive and intelligent, she has survived for years alone in the marsh that she calls home, finding friends in the gulls and lessons in the sand. Then the time comes when she yearns to be touched and loved. When two young men from town become intrigued by her wild beauty, Kya opens herself to a new life–until the unthinkable happens.
Perfect for fans of Barbara Kingsolver and Karen Russell, Where the Crawdads Sing is at once an exquisite ode to the natural world, a heartbreaking coming-of-age story, and a surprising tale of possible murder. Owens reminds us that we are forever shaped by the children we once were, and that we are all subject to the beautiful and violent secrets that nature keeps (Goodreads.com)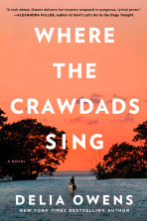 I found the synopsis of this book super intriguing. It's a much different genre than I'm used to reading but since it sparked my interest, I'll give it a try!
4. Colliding With Destiny: Finding Hope in the Legacy of Ruth: Sarah Jakes
The story of Ruth is a journey of transformation. By allowing God to transform her circumstances, Ruth went from a widow who would be excluded from society to a wife with a secure and protected future, a future that ultimately paved the way for the birth of King David! Her story is full of collision–loss, heartache, poverty, even shame–but she never let her past define her. Instead, the most painful time of her life became her most pivotal, propelling her to a destiny she never imagined.
Perhaps you have a past you're struggling to overcome. If disappointments, whether a result of your own choices or the actions of others, have kept you from being your true self, this book is for you. Follow Ruth's life and discover the hope available to each of us. Your yesterday does not have to dictate your tomorrow.
Despite your past pain, you, too, can find redemption and restoration.
This is a re-read for me. I oftentimes like to re-read books depending on the season of life I find myself in. The story of Ruth is always one I like to dive back into. I also love the way Sarah Jakes brings this story to life.
Lastly, I'll be doing another devotional from the Daily Grace Co.  This month( and April ) I will be journeying through the book of Isaiah. 
What are you reading this month?
xoxo