Hey guys!
It's been a really long time since I posted an "Wednesday Weekly Reads" compilation on my blog, reason being… I just haven't been motivated to read as much as I usually do… or at all ( barely)  I had a list of books I wanted to read, a top 5. I completed one ( lol) with the possibility of finishing two more out of my five by the end of the year…. maybe.  I also had a checklist of categories of a reading challenge  that I wanted to read at least one book from each this year… I think I accomplished 2 maybe 3 of the 12 challenges… FAIL!! (lol)
I became disillusioned with reading because I felt that I had put myself into a box and I was reading because I needed to meet my goal. I was reading books that I didn't particularly want to. So I decided to quit my challenge and set a more realistic goal! I decided to set a goal of reading 25 books ( or approx. 2 books a month) and to make sure that I read books that I truly wanted to. I'm one book shy of my goal! ( go me!!)  So here's a quick look at some of the books I have recently read ( and am currently reading)
Stand Your Ground: Victoria Christopher Murray-  This book was a stunning representation of the situation that is plaguing black community right now, especially with out young black men. This is a fiction book but it truly does depict real life events ( think the Trayvon Martin tragedy)
A black teenage boy is dead. A white man shot him. Was he standing his ground or was it murder?
Janice Johnson is living every black mother's nightmare. Her seventeen-year-old son was murdered and the shooter has not been arrested. Can the D.A. and the police be trusted to investigate and do the right thing? Should Janice take advantage of the public outcry and join her husband alongside the angry protestors who are out for revenge?
Meredith Spencer is married to the man accused of the killing and she sees her husband and the situation with far more clarity than anyone realizes. What she knows could blow the case wide open, but what will that mean for her life and that of her son? Will she have the courage to come forward in time so that justice can be done?
Mama's Boy: Reshonda Tate Billingsley- Very similar to the book above in the content however it shows the other side. Very good read .
When her son is in trouble, a heartbroken mother finds the courage and faith to save him, in ReShonda Tate Billingsley's powerful family drama—a novel as timely as today's headlines.
The breaking TV news rocks Jasper, Texas, to the core: a white police officer is fatally shot in a scuffle with three black youths—and a cellphone video captures Jamal Jones, the sixteen-year-old son of esteemed Reverend Elton Jones, escalating the tragic encounter. Now, as the national spotlight shines on a town already rife with racial tension, Jamal is a murder suspect on the run. And all of Jasper—even the Reverend's congregation—rushes to judge the boy they thought they knew.
But Gloria Jones knows her son best, and she races to find Jamal before the law does—to the outrage of her workaholic husband. Once she finds him, she has to decide whether to turn him in or help him run. With ruthless prosecutor and Houston mayoral candidate Kay Christensen hungering to put another young thug behind bars, Gloria will face her biggest battle yet. And when long-hidden secrets and shocking lies come to light, throwing Jamal's case and his destiny into a tailspin, all Gloria can do is pray that the truth—and a mother's unconditional love—will be enough to redeem the mistakes of the past and ultimately, save her son.
The Golden Son: Shilpi Somaya Gowda –  A story about a young man's journey from rural India to America making dreams a reality. 
Anil is the cherished son of a large family in rural India. As the eldest boy, he is expected to inherit the role of leader of his clan and arbiter of its disputes, dispensing wisdom and good advice. Leena is his closest companion, a fiercely brave girl who loves nothing more than the wild terrain they inhabit and her close-knit family. As childhood friends, they are inseparable—but as adulthood approaches, they grow apart.
Anil is the first person in his family to leave India, the first to attend college, the first to become a doctor. Half a world away in Dallas, Texas, he is caught up in his new life, experiencing all the freedoms and temptations of American culture: he tastes alcohol for the first time, falls in love, and learns firsthand about his adopted country's alluring, dangerous contradictions. Though his work in a gritty urban hospital is grueling, Anil is determined to carve out his own life in America.
At home, Leena dreams of marriage, a strong and true love like the one shared by her parents, and leaves her beloved home to join her new husband's family in a distant village.
Then things start to go wrong: Anil makes a medical mistake with tragic results, his first love begins to fray and a devastating event makes him question his worth as a doctor and as a friend. On a visit home, Anil rekindles a friendship with the woman who seems to understand him better than anyone else. But their relationship is complicated by a fateful decision made years earlier.
As the two old friends discover each other again, they must also weigh the choice between responsibility and freedom, and between loyalty and love
Homegoing: Yaa Gyasi – Probably my favourite book of the year. I literally read all 300 plus pages in two sittings. Such a great book.  If you read anything from this list, read this one!

The unforgettable New York Times best seller begins with the story of two half-sisters, separated by forces beyond their control: one sold into slavery, the other married to a British slaver. Written with tremendous sweep and power, Homegoing traces the generations of family who follow, as their destinies lead them through two continents and three hundred years of history, each life indelibly drawn, as the legacy of slavery is fully revealed in light of the present day.
Effia and Esi are born into different villages in eighteenth-century Ghana. Effia is married off to an Englishman and lives in comfort in the palatial rooms of Cape Coast Castle. Unbeknownst to Effia, her sister, Esi, is imprisoned beneath her in the castle's dungeons, sold with thousands of others into the Gold Coast's booming slave trade, and shipped off to America, where her children and grandchildren will be raised in slavery. One thread of Homegoing follows Effia's descendants through centuries of warfare in Ghana, as the Fante and Asante nations wrestle with the slave trade and British colonization. The other thread follows Esi and her children into America. From the plantations of the South to the Civil War and the Great Migration, from the coal mines of Pratt City, Alabama, to the jazz clubs and dope houses of twentieth-century Harlem, right up through the present day, Homegoing makes history visceral, and captures, with singular and stunning immediacy, how the memory of captivity came to be inscribed in the soul of a nation.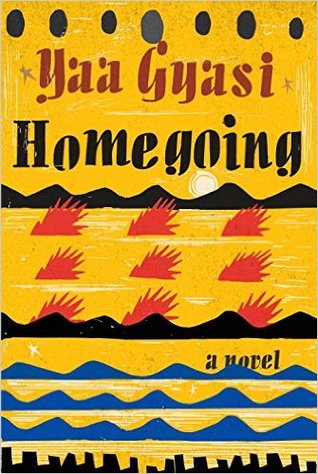 So those were some of my favorites of this past reading season. Heres what I'm currently reading. I will do a more detailed review at a later date!
A House Without Windows- Nadia Hashimi
The Underground Railroad- Colson Whitehead
Colliding With Destiny: Finding Hope in the Legacy of Ruth- Sarah Jakes
The Illegal- Lawrence Hill

Hope you are finding joy in the things you are reading! Check out some of these great titles!
xoxo