Hey guys!
Back again with another adventure in food! I absolutely LOVE pizza! If I'm going to eat junk food I most definitely will pick pizza 9 times out of 10 ( the other one time is dedicated to chicken wings lol)
So on a Saturday night, the crew and I decided to grab a bite to eat in our city's very own gourmet pizza bar. NaRoma Pizza Bar is located on the very quaint Locke Street ( 215 Locke St S.) in Hamilton Ontario. It's a pretty small place and if you blink you'll miss it! But if you take a moment to stop in, you will not be disappointed!
The wait was super long but it was well worth it! This is not a place that can accommodate a large party, but if you are looking for a space for an intimate night out with your girlfriends, your best pals or your significant other, this is a great option. The staff was friendly and made sure that you were kept in the loop about your wait time was and even allowed you place your order ahead of time, so that when you sit down, your wait time isn't as long. The prices are reasonable for the amount of food that you get. NaRoma offers all the regular soft drink options as well as alcoholic beverages if you so desire.
NaRoma, a restaurant that is known for their pizza,  offers a plethora of gourmet pizza options. The sizes range from Coppia, (  12 pieces,serves 2-3 people) Famiglia ( 18 pieces, serves 3-4 people) and Festa ( 24 pieces and serves 4-6 people). On each pizza you can mix and match flavours!  (I'll post the menu down below so you can see what they have to offer!)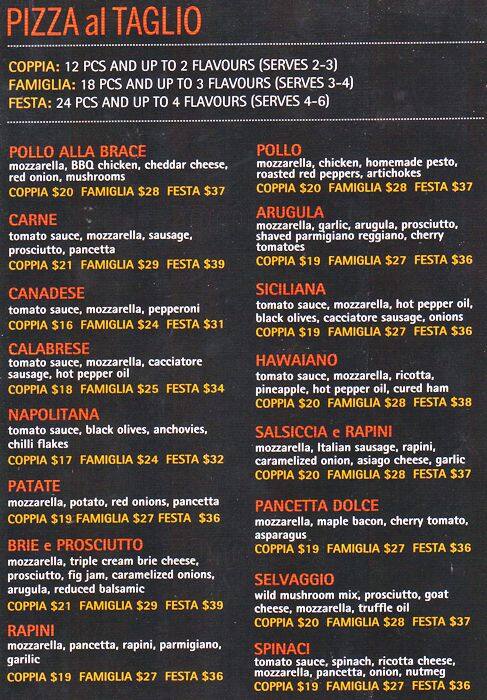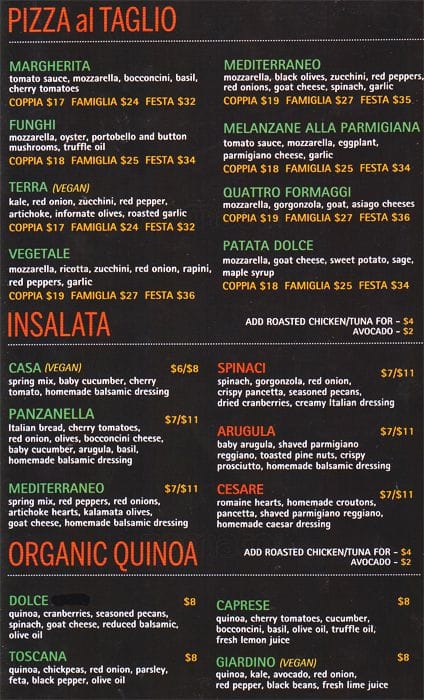 On this trip we decided try 2 different flavours.
We tried the Pollo which has mozzarella,chicken, homemade pesto, roasted red peppers and artichokes! We nixed the artichokes though. I'm not a fan.:)  The flavours blended nicely. The homemade pesto was amazing! I really enjoyed the fact that there was an even distribution of all the toppings on each square slice of pizza.
Next, we didn't deviate to far from the first flavour. We decided to try the Pollo Ala Brace which had mozzarella, BBQ chicken, cheddar cheese , red onion and mushrooms. Hands down , this one was my favourite of the night.  The BBQ sauce added just the right kick of flavour for me! The red onions however, were cut a little bit too thick for my comfort so I ended up picking them off. Still when I return to NaRoma, this will certainly be an option.
NaRoma also offers a variety of salads and vegetarian and vegan options in the pizza department. On the menu you will also find a few Quinoa dishes you may want to check out. For the foodies out there who have a sweet tooth, NaRoma even offers a  Nutella Pizza! My crew said it was good, but me with the nut allergy had to pass!
Beautiful food to end a beautiful day! If you are ever in the Hamilton, Ontario area, go on down to NaRoma Pizza Bar! You will not be disappointed! Happy eating!!